Sedation Dentistry
Dental anxiety is a very real and powerful thing for many people. It can make people feel nervous in the dental chair or even make them completely avoid dental care for years. As part of our commitment to providing comprehensive, gentle dental care, we offer relaxing sedation options to help you feel comfortable in our care.
Learn More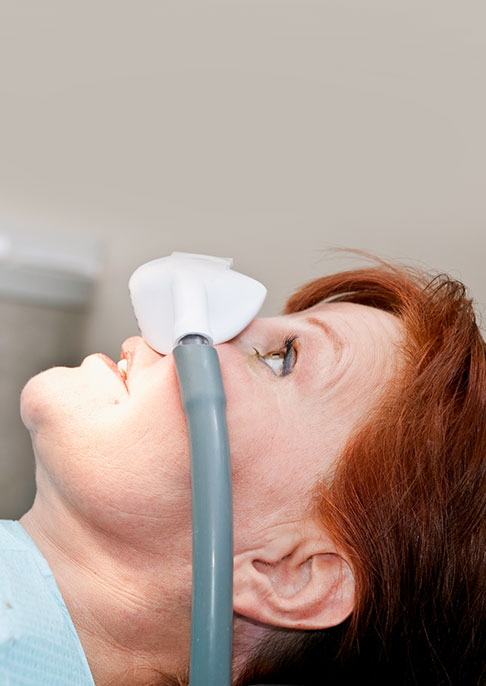 Nitrous Oxide
Also known as "laughing gas," nitrous oxide is a safe and easy sedation method that keeps mild to moderate anxiety at bay.
Sweet-Smelling Gas
Inhaled Through a Mask During Procedure
Creates Calm & Relaxed Feelings
Effects Wear Off Within Minutes
Oral Conscious Sedation
For those with moderate to slightly severe anxiety, we offer oral conscious sedation. With this method, Dr. Ganesh prescribes a pill for you to take shortly before your appointment begins. By the time you're in the dental chair, you're completely relaxed. This sedation option also allows you to stay awake during the procedure to answer any questions we might have.
IV Sedation
For severe anxiety and more invasive procedures, Laguna Dental & Orthodontics can provide IV, or intravenous, sedation. IV sedation puts patients completely under, so you'll be "asleep" throughout the procedure. We carefully monitor you throughout your procedure to ensure that you're getting the dose of anesthesia that's right for you.
With IV sedation and oral conscious sedation, we require that you have someone accompany you to your appointment and drive you home afterward.
Contact Us
Care at Your Pace
We always want you to feel comfortable, so we work at a pace that is best for you. If at any time, you need us to slow down, or you need to take a break, let us know! You should feel at ease while you're in our care, so let us know if there's anything we can do to help you feel better.